---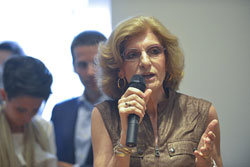 Sinergie dei "Tramonti in una tazza" di Lidia Chiarelli
Leggendo le poesie di Lidia Chiarelli dedicate a dodici poetesse e scrittrici inglesi e americane, composizioni scalate una per mese e distese sulla ideale fascia temporale di un anno, ci si trova in un regno di armonia globale in cui vari regni coesistono in equilibri ideali fatti di musica, immagini, temperature, cicli e fenomeni di natura.
Una continua sinestesia avvolge la poetica di Lidia, che si abbevera alla fonte inesauribile della personale sensibilità stabilita con la natura. L'omaggio alle figure femminili si plasma in accordi tratti dalla musica, dalle melodie, dalle armonie uditive che convivono con le immagini di piante, fiori, giardini, con i sentori odorosi da essi sprigionati, con le luci e le temperature delle notti, dei giorni, delle stagioni. Donne come sinergie paniche con il tutto, un tutto inteso nel senso di armonia del Creato, che Lidia rende tangibile e godibile in una poesia trasparente, cristallina, sensibile e sussurrata.
Nicoletta Colombo
Milano, 25 febbraio 2018
 __________________________________________ 
 Lidia Chiarelli – Tramonto in una tazza – Sunset in a cup
Edizioni Esordienti E book
Moncalieri Torino 2017  ISBN 978-88-6690-382-6
Premio Nazionale di Arti Letterarie Metropoli di Torino – XIV edizione
Segnalazione di Merito – Premio Nazionale Il Meleto di Guido Gozzano – VII edizione
Disponibile nelle seguenti biblioteche degli Stati Uniti: Main Public Library of Cincinnati & Hamilton County – Ohio, Monroe County Public Library Key West - Florida, Nashville Public Library - Tennessee, Jacksonville Public Library - Illinois
-          in Canada: Middlesex County Library, Ontario CA
Nomination al Pushcart Prize 2018 (USA) per 5 poesie di Tramonto in una tazza-Sunset in a cup
---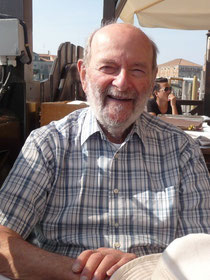 ,  
Review of "SUNSET IN A CUP" by Lidia Chiarelli
Great Title
Great Cover
Great Review by Mary Gorgy
Great Idea – visual and verbal companionship
Great Poems and digital Creations.
Lidia Chiarelli has been inspired by twelve women authors.  She has created her own poems to accompany their lives and literary works.
There is a poem for each month of the year: January-Virginia Woolf,
February-Edith Sitwell, March-Emily Dickinson, April-Dorothy Parker, May-Edna St. Vincent Millay, June-Vita Sackville West,
July-Sylvia Plath, August-Aeronwy Thomas, September-Daphne Du Maurier, October-Christina Rossetti, November-Charlotte Bronte,
December-Katherine Mansfield.
'The Call' to Virginia Woolf is particularly powerful in the context of Virginia Woolf's manner of dying.  The 'Black Ravens' are sinister as their secondary meaning signifies death.  They circle around the door as Virginia Woolf closes it and shuts out her past world.  There is a 'call' that implies an extra controller who beckons her to the river's edge.  A strong image answers 'The Call' – Virginia Woolf is 'docile' as she wades into the river with heavy stones in her coat pocket.  Her end is 'an icy embrace', without struggle, without turning back, being 'gently wrapped' in a cold death.  To accompany this poem is a digital overlay of a portrait of a pensive Virginia Woolf with the river in the background – all expressed in a cold blue.
Lidia Chiarelli has chosen a wonderful short story writer in Katherine Mansfield.  For her, Lidia Chiarelli has chosen to write in rhyming couplets – a careful skill.  The poem refers to the society that interested Katherine Mansfield - garden parties, cups of tea and 'sentimental weddings'.  The poem ends with an appeal that Katherine Mansfield be 'our guide' into her enchanted settings.  The digital over-lay with Lidia Chiarelli's "Katherine's World" is a portrait of Mansfield and 'falling ashes'.
There are ten additional poems to enjoy the imagery and conceits contained in Chiarelli's writing.
Be certain to unfold the front cover flat in order to enjoy the colourful 'sunset' colours that Emily Dickinson watches, at the top right hand corner and Virginia Woolf's river that flows through the bottom left hand corner. This cover and the "Back to Britain" painting of the white cliffs of Dover and the graceful gliding birds at the end of the collection of poems are from the exciting work of Gianpiero Actis.
Allen Jacobs MA  University of London
 Rhydlewis, Llandysul, October 14, 2017
---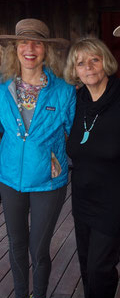 Patricia Holt and Lidia Chiarelli
I hardly know where to start, with all the layers of my being you have touched with your book! Your captivating poetry itself, your artistic and technical skill in the collages, your concept in how you created the book and honored some of my own favorite women poets and writers with your own precious words, your provocative photo on the back flap (how was that done?!), the design and production of the book …! Truly, I am entirely touched and inspired by your creation and salute you in all ways. You honor these women, not only in singling them out, but with your own poetic expression. Bravo! 
Patricia Holt
Big Sur, January 5 2018
---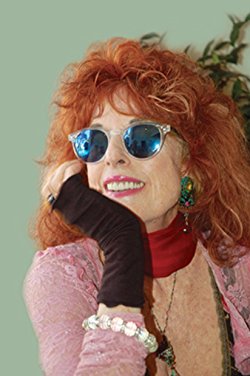 ... wonderful choices of creative expression in such an aesthetic presentation ...
Carolyn Mary Kleefeld
Big Sur, January 10 2018
---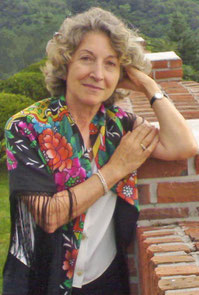 Ho letto con molta attenzione la raccolta di Lidia Chiarelli intitolata 'Tramonto in una tazza' e ho apprezzato , oltre all'eleganza, l'idea originale del controcanto con i versi chiave delle poetesse prescelte, a testimonianza delle sue predilezioni poetiche e delle sue affinità di pensiero con la loro scrittura. Controcanto in versi, un'idea originale e vincente che le ha permesso di cogliere e mettere in evidenza i particolari caratterizzanti del loro'essere' in poesia e del suo percepirne i loro pensieri chiave . La raffinatezza e delicatezza di scrittura è esaltata dagli splendidi collages: anche l'editore ha fatto la sua parte. Il risultato è di una raccolta bella e raffinata.
Anna Maria Bracale Ceruti, scrittrice
Torino 18 settembre 2017
---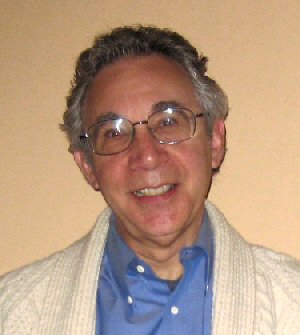 There are two special times in the day: the time just before we fall asleep and
the time just before we wake up.
The words and images in this book feel to me as if these were found by Lidia Chiarelli in those moments.
The "portrait" of each writer in this book is rendered in that in-between world of being awake and being asleep when
impressions wash over us.
What makes this no ordinary book is Chiarelli's creativity in how she pairs a poem with a pictorial presentation
 so that the two do not repeat each other, but resonate with each other.
Neal Whitman, Poet
May 18 2017